Calls for new build homes to be suspended in Goole after floods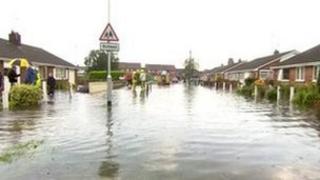 A councillor has called for new home applications in an East Yorkshire town to be suspended until a water company's facilities are "fit for purpose".
Yorkshire Water has admitted that storm waters on 5 July damaged some pumps at its Carr Lane facility in Goole.
Former Mayor of Goole and Councillor Keith Moore said: "Enough is enough."
The company said it would do "everything we can" to support householders and businesses affected by the flooding.
Yorkshire Water was criticised for failures at the same station during flooding in August 2011.
Mr Moore said: "It is simply heartbreaking to see the effect these numerous flooding episodes have on, not only properties, but people.
"Suspending new planning applications for residential properties is radical but under these circumstances it would be reasonable to do so and at the same time we must take a serious look at where we build."
'Difficult conditions'
The councillor added that the company should "do the honourable thing and meet the claims this time for all of the flood victims".
He is also calling for Yorkshire Water and and The Environment Agency to host a public meeting in the town to discuss what action it would be taking to "prevent this from re-occurring".
In a statement the company said: "Yorkshire Water has and will continue to work alongside the council and emergency services to do everything we can to support householders and businesses affected by the flooding.
"The storm damaged some pumps and we have been doing everything we can to maintain as close to maximum pumping capacity during these difficult conditions."
The company added it was not yet able to establish the exact sequence of events but would be investigating the incident fully.
Yorkshire Water had agreed to fund a £275,000 study of the drainage and sewerage systems in Goole in January 2012 after around 50 homes were flooded in August 2011.