Residents meet to discuss future of Gilberdyke tip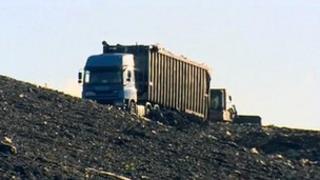 Residents near an East Yorkshire tip have discussed the future of the landfill site once it closes.
They are concerned that tip operators in Gilberdyke have applied for changes to the tip permit once dumping stops.
City Plant Ltd took over the tip in 2011. It was told by the Environment Agency (EA) in February to stop dumping waste.
The application is for a new monitoring plant, surface water, gas and stability risk assessments.
City Plant Ltd failed to reduce the height of the tip, which more than doubled its permitted height of 14m (46ft).
The tip has been on the site for 40 years and is due to close by Christmas, the company said.
Residents have increasingly complained of traffic noise, an increase in rubbish and vermin, and even being made sick from the smell.
'Long black tunnel'
Roy Hunt, who chaired the residents' meeting in Newport, said: "It's been awful. The community feels we have been dragged through a long black tunnel by the company."
Mr Hunt said residents wanted operators to withdraw the application to the EA.
"We are regulated by the EA and it's not uncommon for [landfill] operators to submit variation applications," he said.
A statement from the EA said: "The changes to this permit affect how the site will be completed and how it will be managed once closed.
"We have accepted the application and we are now seeking comments from the public on these proposals. We will consider these comments when making our decision about the application."
The tip's operations consultant Kevin Wanlass said the company wanted to liaise with residents, parish councils, the local authority and the Environment Agency to rectify things for the future restoration of the site.