Green Port Hull factory boosted by Siemens turbine deal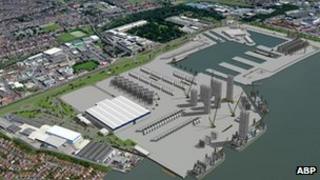 A new wind turbine factory for Hull is set to benefit from a major order secured by engineering firm Siemens.
The company has signed a deal, reported to be worth £1.94bn, to supply 300 turbines for offshore wind farms owned by Danish firm DONG Energy.
Siemens said components of some of the turbines would be built at the planned factory at Hull's Alexandra Dock from 2014.
Plans to build the £210m factory were approved by city councillors in May.
Siemens signed an agreement with DONG Energy on Thursday to design and manufacture the 300 turbines, which would have a total capacity of 1,800 megawatts, the engineering company said.
The turbines are expected to be installed at offshore wind plants across the UK between 2014 and 2017.
A spokesperson for Siemens said it would be "known nearer the time" of construction how many of the turbine components would be built in Hull.
Green Port Hull is a collaboration between Siemens and the dock's owners, Associated British Ports (ABP).
Siemens said the factory, which is expected to open in 2014, would employ 700 people.