Burstwick Drain water samples check oxygen level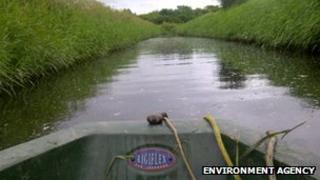 Samples have been taken from a watercourse in East Yorkshire after fish were reported to be suffering from low level of oxygen in the water.
A "significant" number of stickleback, roach and other fish in Burstwick Drain, near Hedon, were "gasping for air", said the Environment Agency.
Samples were taken along 3 miles (5km) to check for pollutants getting into the watercourse.
The agency also used hydrogen peroxide to raise the water's oxygen level.
It said it did not know how many fish were affected or why the oxygen is depleted.
The agency said oxygen levels can be lowered by natural causes, such as warm weather or heavy rain, or by pollution.