Mappleton beach munitions: More controlled explosions due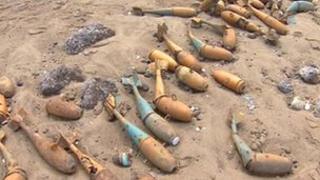 Further controlled explosions are due to take place at an East Yorkshire beach on Wednesday after hundreds of munitions were exposed by a landslip.
The shells were discovered by a dog walker on Saturday at Mappleton beach.
The beach, near Hornsea, was used as a practice bombing range for the military during WWII and in the 1970s.
Bomb disposal experts from RAF Wittering are expected to carry out between four and eight controlled explosions at about 15:00 BST.
The explosions were being carried out to ensure that all the munitions had been made safe, an RAF spokesman said.
However "99.9%" of the shells and rockets were spent ordnance and posed no threat to the public, he added.
Most of the munitions found on the beach are thought to date back about 40 years.
It is expected that the beach will remain sealed off for some days while the clean-up operation is completed.