Hull hails 'Hullympians' Luke Campbell and Alex Smith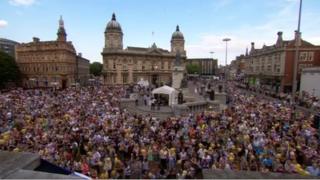 Thousands have gathered in Hull city centre to welcome home Olympic gold medal-winning boxer Luke Campbell and hammer thrower finalist Alex Smith.
The Olympic pair appeared on the balcony of Hull City Hall, Queen Victoria Square, at about 18:30 BST.
Campbell won gold in the Olympic bantamweight final while Smith reached the men's hammer final.
The boxer said "it doesn't seem real just yet" but he was "overwhelmed" by the welcome.
On hearing the roar from the crowd as he appeared on the balcony he said: "This is why I've always been proud to be from Hull."
The pair have been dubbed the "Hullympians" in their home city and the square was full of red, white and blue for the event.
Hull City Council estimated the crowd watching the event numbered about 13,000 people.
Mavis Tomlinson, one of the crowd, said of Luke Campbell's win: "It means a lot to Hull and a lot to the people.
"It's not just gold - he's a diamond."
Karl Turner, Labour MP for Hull East, said the event had brought a "feelgood factor" to the city and added it was an amazing achievement.
Smith had previously said he did not know what to expect from the homecoming celebration.
"It'll be crazy to have a square full of people for me and Luke.
"It's definitely something I've never experienced before, being a celebrity in Hull," he said.
"I'm proud of competing for Hull. I'm happy here and to have everyone in your town behind you is brilliant."
Smith's mother, Diane, said her son's homecoming would be "a real party".
Following their appearance on the balcony, Hull's Lord Mayor will host a special civic dinner in honour of Campbell and Smith.