Students in Hull achieve city's best ever GCSE results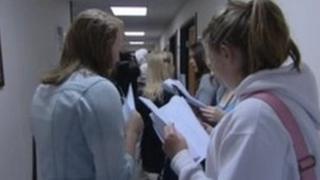 Pupils in Hull are celebrating the city's highest ever GCSE results.
The number of students getting five A*- Cs including English and maths reached 47.4%, compared with 46.3% last year.
However, the results still leave the city below the council's target of 50%.
In 2008 Hull was bottom of the league table of 151 English local authorities, with just 29.6% of pupils reaching the government's "gold standard" of five A*-C GCSEs including English and maths.
Stephen Brady, Labour leader of Hull City Council, said: "My thanks and congratulations also go to those teachers, school staff, governors and families who have given their time, dedication and encouragement to these young people.
"We are continuing to prove that we can maintain progress and a good standard of education across the city. We will reflect on the past year and look at how we can make further positive progress for the next academic year."
Figures provided by Hull City Council show that 50% of schools had improved their figures compared with last year, with 50% achieving their best ever grades.
The Department for Education has set a target for all schools to achieve a target of 40% of pupils to get five GCSEs at grades A* to C, including maths and English.