Hull charity bag fly-tipping case dropped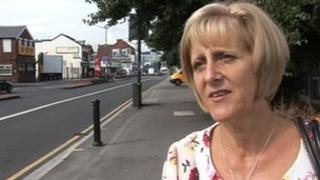 A woman who faced prosecution for fly-tipping after leaving some bags next to a recycling bin has said she is relieved the case has been dropped.
Greba Lilly, from Hull, said she left three bags of clothes on the ground as the charity recycle bin was full.
MP Karl Turner, who was supporting Ms Lilly, said he was delighted the city council "took the common sense decision" to drop the case.
Hull City Council said it had to investigate reports of fly-tipping.
Mrs Lilly, who left the bags in a supermarket car park, said: "I'm extremely relieved. I feel so much better already... it's over now for me.
"I didn't expect it to go so far."
Mrs Lilly claimed her health had been affected because she had been worrying about the case.
'Doing good'
She received a letter from Hull City Council two weeks ago asking her to attend a taped interview under caution.
The letter warned if she failed to attend the recorded interview she could be arrested.
Mr Turner said: "Clearly the legislation is not designed for the type of thing that Mrs Lilly was doing. She was trying to do good."
In a statement, Trish Dalby, director for Neighbourhoods and Families at Hull City Council, said: "We have to investigate any instance of fly-tipping that is reported to us, as we have done in this case, to establish the facts and take any appropriate action.
"The council cannot disclose the outcome of any investigation as this is a matter between the council and the person involved."
Warren Alexander, from the Charity Retail Association, said fly-tipping laws should not be used to "harass" and hoped the case would not put people off donating clothing to charity shops.