River Hull water pipe project starts in Driffield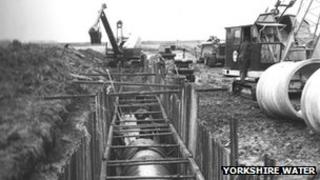 Major engineering work to install what is believed to be the first pipeline under the River Hull since the 1950s is about to begin in East Yorkshire.
The 755ft (230m) pipe will be installed near Driffield and is part of a £300m underground grid used to move water across the Yorkshire region.
The work, which is due to start on Monday, will include the creation of a tunnel 26ft (8m) under the River Hull.
Work on the project is expected to be completed by December 2012.
'Quite exceptional'
The pipe is thought to be the first to be laid under the river since 1959, when Tophill Low water treatment works and reservoirs were built near Driffield.
Ross Housley, from Yorkshire Water, said the project was "quite exceptional", not least because much of the work would take place at the firm's Tophill Low nature reserve.
"Obviously we'll be making sure our work doesn't disturb the local wildlife, such as otters and water voles," he said.
The pipe would give the company greater flexibility in how it moved water around its underground grid, said Mr Housley.