Jessica Blake death: Parents pay tribute to daughter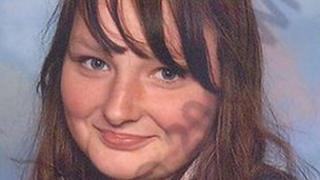 The family of Jessica Blake, whose body was found in woods in Beverley, East Yorkshire, have payed tribute to her.
The 14-year-old's parents Dave and Alison Blake described their daughter as "mischievous, loving and kind".
Her body was found at the weekend after a search when she went missing. The death is not thought to be suspicious.
Mr and Mrs Blake said: "She filled our lives with fun... loved us and hugged us, played with us and fought with us, often all at the same time."
They added: "She was clever and confident, funny and witty, and I can still hear her laughing."
The couple also paid tribute to the people who helped searched for Jessica and for the people who had posted tributes on Facebook.