Health checks for East Yorkshire fishermen to expand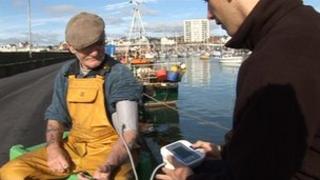 A health check service for fishermen in East Yorkshire is to be extended along the east coast thanks to £37,000 of funding.
An NHS health trainer visits fishermen in Bridlington three times a week.
More than 70 fishermen have benefited from the scheme since it launched last year after evidence showed they had unhealthy lifestyles, the Humber NHS Foundation Trust said.
It was hailed a success and will now expand to Hornsea and Withernsea.
The long hours and labour-intensive job of a fisherman could lead to a lifestyle of heavy smoking, alcohol misuse, stress, poor diet and depression, the trust said.
It also meant medical problems would not be addressed or would remain unnoticed.
'Healthier and fitter'
Fishermen in Bridlington said the hazardous and demanding nature of the job had made it difficult to visit a doctor.
One fisherman said: "Before there were any health visitors down here you would just carry on as usual and you didn't know you had something until it got really major."
The trainer offers advice and support, as well as conducting physical examinations such as blood pressure checks.
Natalie Belt, from Humber NHS Foundation Trust, said the trainer had helped a number of fishermen to lose weight and quit smoking.
"We've had one guy whose blood pressure was so high that we referred him straight away to the hospital and he's now, hopefully, healthier and fitter than he was 12 months ago."
Humber NHS said it aimed to reach 250 fishermen across the east Yorkshire coast by next year.
The Holderness Coast Fishing Industry Group said it hoped the scheme would be rolled out across the country.