Hull homes plans 'in doubt' after High Court ruling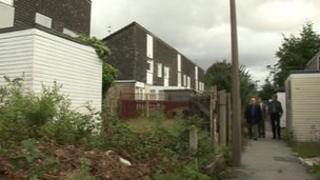 A multi-million pound plan to redevelop housing in Hull has been put in doubt following a court ruling.
Hull City Council was set to receive £3.3m of government money to help it demolish older properties.
However, Save Britain's Heritage (SAVE) has been granted a judicial review of the policy at the High Court.
One resident of a Hull estate set for redevelopment said he was "bitterly disappointed" by the decision, which could mean the grant has to be repaid.
SAVE objected to then housing minister Grant Shapps's approval of £35.5m of funding to demolish homes across England.
'Uncertain future'
The heritage charity claimed some of the housing "can be economically refurbished to provide pleasant and comfortable homes for families".
The council said the "withdrawal of funding meant an uncertain future for people living in some of the worst housing conditions".
It also voiced concerns that the grant money would have to be paid back.
Councillor John Black, portfolio holder for strategic and operational housing, said: "Our bid was very clear, and was created and is being delivered in good faith.
"We jumped through all the hoops for the funding and signed the legal documents that agreed the release of the money.
"It is unbelievable that anyone could think to ask for that money back when it was there to help sort out the mess left behind from when bespoke funding for housing regeneration projects was cut, when it left many residents in difficult situations."
'Past sell-by'
One area earmarked for regeneration is the Ings Road estate in east Hull.
Resident Garry White said he was "bitterly disappointed" by the decision.
"These houses aren't historical by a long way, " he said.
"These are pre-fabricated houses. They had a life-span of about 30 years.
"In my opinion they are well past their sell-by date and we look forward to the modernisation."