Lincolnshire clergy 'feel undervalued' by church leaders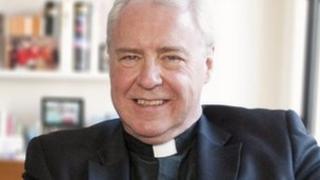 The clergy in Lincolnshire feel "undervalued" by their leaders and suffer from low morale, a report has claimed.
The document, commissioned by the Bishop of Lincoln, also highlighted concerns over governance and the management of churches.
The bishop, the Right Reverend Christopher Lowson, said he would act on the findings.
Bishop Lowson commissioned the report after his appointment last year.
The independent report, called the Central Services Review, interviewed employees across the Church of England's Diocese of Lincoln.
The report said many members of staff saw the central management running the diocese as "remote, autocratic, indecisive and lacking in transparency" and that the "diocese has suffered from a lack of direction".
It also raised concerns over the costs of maintaining the county's historic church buildings and called for the rationalisation of the diocese's headquarters in the Old Palace in Lincoln.
Bishop Lowson said he "was sorry if people were unhappy" and said he would make changes.
He said: "My job is to learn the lessons and to put things in place to improve things."