Hull's waste power plant receives EU backing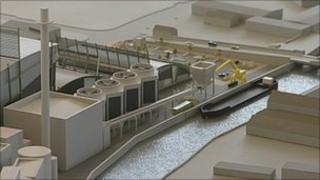 Plans for a power plant in Hull have received initial backing for a £20m grant from the European Union.
The European Commission confirmed its support for the proposed £150m plant, to be built next to the River Hull on the site of a former cocoa factory.
The plant will produce enough electricity to power 25,000 homes.
Developers The Spencer Group said the grant, from the European Regional Development Fund, would be a huge boost.
Chief Executive Charlie Spencer said: "It's great that we've got this recognition that the scheme is worthy of such support.
"It is cutting edge. It will be the greenest technology of its kind, the greenest most environmentally friendly plant in the country."
Not 'distorting competition'
The plant would generate power by a process known as advanced gasification, where household waste is turned into gas and burnt to provide electricity.
The facility would incorporate a wind turbine, solar panels and an anaerobic digestion plant, which breaks down organic waste and converts it to gas that is then pumped into the UK's national gas distribution network.
The European Commission said the project would "contribute to the security and diversification of energy supply, in line with EU objectives, without unduly distorting competition in the internal market".
Friends of the Earth is yet to comment on the proposals for the new plant, planned for Cleveland Street.
A planning application was submitted by the developers earlier in the year to Hull City Council for consideration.