Aleksandras Aleksiunas jailed for sat-nav row manslaughter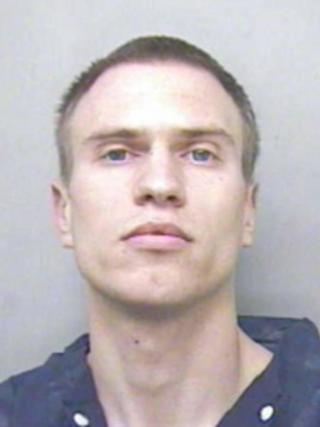 A man who stabbed and strangled another man in a row over a stolen sat-nav unit has been jailed for nine years.
Aleksandras Aleksiunas, 26, of Burke Street, Scunthorpe, was convicted of the manslaughter of Arvidas Skrinskas but found not guilty of murder at Hull Crown Court.
Mr Skrinskas, 25, was killed and buried on Christmas Eve 2011.
Aleksiunas was also sentenced to four years for false imprisonment. The two jail terms will run concurrently.
'Extremely obsessed'
Hull Crown Court heard Aleksiunas had accused Mr Skrinkas and his girlfriend of stealing the sat-nav during a car journey weeks earlier.
Timothy Roberts QC, prosecuting, told the court Aleksiunas became "extremely obsessed" by the idea someone had stolen the device and "took the law into his own hands".
Mr Roberts said that on Christmas Eve Aleksiunas confronted the couple and asked them to get in a car which he then drove around Scunthorpe.
When Ms Jozenaite was taken home to change her clothes, she returned to the car only for it to speed off with Mr Skrinskas still inside, Mr Roberts said.
The court heard Mr Skrinskas was killed at about lunchtime and his body was dumped in a shallow grave and covered with leaves in woodland close to Humberside Airport.
The body was found by police on 10 January.