Whale stranded at Bridlington beach dies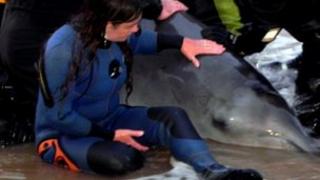 A whale has died after being washed up on a beach in East Yorkshire.
Lifeboat crew members in Bridlington were called to the beach near Auburn Farm at midday on Sunday, after the whale had become stranded.
British Divers Marine Life Rescue said the animal was a young female Sowerby's beaked whale that measured about 11ft (3.37m) long and weighed half a tonne.
The whale had to be put down after an eight-hour rescue attempt. It is thought it was injured by sea defences.
Members of the British Divers Marine Life Rescue along with volunteers attempted to help the animal.
Windsurfer Chris Sykes said: "We were trying to guide the animal through the waves, but it was confused and had lost all sense of direction as it kept circling back to the beach each time it headed out.
"We made four attempts to get it out to sea. We were with the animal for about an hour and eventually it swam out."
'Serious injuries'
However, the whale was eventually washed back on to the beach and had to be put down by a vet.
Second coxswain Stuart Tibbet, from Bridlngton Lifeboat, said: "The volunteers did everything they could to move the whale into deeper water and some of them were understandably upset at the outcome.
"Unfortunately, in the area where the whale came ashore are a number of World War II concrete and metal sea defences and the whale suffered some serious injuries."
The body has been removed from the site by the council.
A post-mortem examination is due to be carried out later by the Zoological Society of London.