Scunthorpe armed robbery suspect arrested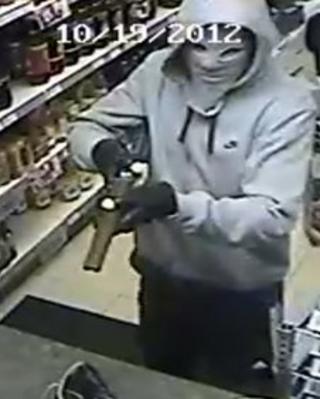 A 20-year-old man has been arrested following an armed robbery at a shop in North Lincolnshire.
Detectives have released a CCTV image of the robbery in Wells Street, Scunthorpe, hoping to locate the shotgun, gloves and mask used.
A gun was fired, damaging bottles in the shop, before the raider left empty-handed on Friday evening, said police.
The shopkeeper, a man in his 40s, was left with slight head injuries caused by glass from the broken bottles.
The offender is described as a white male and about 6ft tall. He was wearing a grey hoodie, dark tracksuit bottoms and a grey ski mask.
After leaving the shop, he is thought to have gone along Sheffield Street, Berkeley Street and George Street.
Det Insp Paul Dixon said the firearm shown in the CCTV footage had not been found.
The gun is thought to be a shotgun with a dirty metal barrel, he added.
Det Insp Dixon asked people to check their gardens and bins and call police immediately if anything was found.
Officers were called to the shop at about 20:30 BST on Friday.
The arrested man remains in police custody.