Hull's pioneering pacemaker patient celebrates 50th year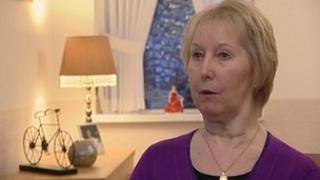 A Hull woman who was once the youngest person in the UK to be fitted with a pacemaker is celebrating the 50th anniversary of her operation.
Val Marsden was 17 when she had one of the newly developed devices implanted at Hull's Kingston Hospital.
Mrs Marsden had the operation after being told by doctors that her heart problem meant she probably would not live beyond her teens.
She went on to be one of the first pacemaker patients to have a child.
'Enjoy myself'
Mrs Marsden said her heart problem affected her childhood.
"I just wanted to be better like my friends and do what they did, enjoy myself," she said.
"Before I just couldn't do anything, I was always fainting.
"When I had the pacemaker in my life came back. My energy flowed."
The first experimental cardiac pacemaker implantations took place in the late 1950s. The device provides electrical stimulation to help the heartbeat.
Rudimentary pacemakers had existed for a number of years but they were external units that were connected to the patient via wires through the arms or chest, while some required mains power.
Hospital stay
The development of transistor technology meant that smaller, battery-powered units were commercially produced in the early 1960s.
Over the years Mrs Marsden has received 23 replacement pacemakers.
She said the early large devices were placed in her abdomen, and required a six-week stay in hospital. Her latest one was fitted a month ago and was done as day surgery.
Mrs Marsden's daughter, Linda Williams, said she was grateful that the surgery had kept her mother alive over the years.
"The science, the technology is absolutely fantastic, she said.
"A little box like that that can keep your heart going. It is amazing to think that it's kept her alive all these years.
"And she's seen me grow up, my children grow up and her great-grandchildren now are starting to grow up."