North Lincolnshire town's shock at nappy factory closure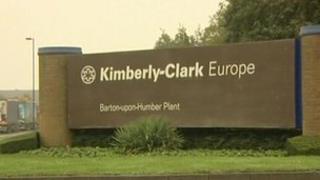 People in Barton-upon-Humber have expressed their shock at the closure of the Kimberly-Clark nappy factory in the town.
The company announced on Wednesday it was stopping the manufacture of its Huggies brand in Europe.
It will lead to 378 jobs being lost at the plant when it closes next year.
One of the workers Mike McPhee said: "Nobody expected it, the rumour was one factory would close in Europe, but not all the factories."
Another worker facing redundancy, Philip Stow, said: "Huggies is a massive brand and it's surprising they've decided to pull out of Europe. It's a shock."
Property developer Nathan Whall is constructing a housing complex next to the factory.
'Restore confidence'
He said that having the plant in Barton-upon-Humber was part of the reason he was building the new homes there.
"Having a big employer such as Kimberly-Clark in the town gives you confidence to build in the town and that it does have a good economic future," said Mr Whall.
"Certainly the news yesterday is going to shake the local economy up."
The town's mayor Paul Vickers said he hoped that people would pull together to help the local economy.
"This is a devastating blow," he said.
"It's going to affect confidence and we need to try and restore confidence.
"People do want to shop local. People do prefer the service that the local shops provide.
"So, I'm hopeful people will support the town centre and shop local."