Hull MP's concern over end of flood insurance deal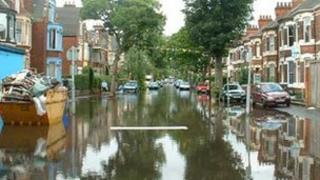 A Hull MP said city residents could be denied flood cover unless the government and insurance industry agree a new deal.
Labour's Diana Johnson said that a meeting between ministers and the Association of British Insurers (ABI) was "vital".
The government agreed a deal with insurers in 2008 to ensure cover for high-risk homes.
The pact, known as the Statement of Principles, is set to expire next year.
Under the the agreement, insurers offer cover to existing customers at significant risk of flooding in return for government commitments to build flood defences.
More than 10,000 properties in Hull were affected when rain overwhelmed the city's drainage system in 2007.
Diana Johnson, Hull North MP, said: "This is a vital meeting between the insurance industry and the government that could determine whether Hull residents and businesses can get affordable flood insurance after July 2013.
"Time is pressing and we need this government to get its act together and come to a robust agreement with insurers that protects flood risk areas into the future."
The ABI said the deal was not working and that it was looking for a replacement long-term solution that "secures the availability and affordability of flood insurance."
'Go further'
In a statement the ABI said: "We are acutely aware of the urgency of the situation and want to be able to bring clarity on the future of flood insurance, which is why we continue in intensive discussions with government on securing a new deal."
The Department for Environment, Food and Rural Affairs, which is organising the meeting, said: "We want to go further than the Statement of Principles to reach an agreement that ensures both the availability and the affordability of flood insurance.
"The insurance industry and the government continue to work together towards this goal.
"We are considering a number of options to ensure that home insurance continues to be widely available and affordable in areas of flood risk."