Waste tip petition started by Gilberdyke villagers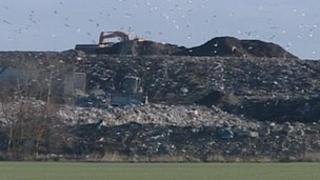 Residents of an East Yorkshire village have started a petition objecting to plans to extend the height of a rubbish tip.
The site near Gilberdyke had grown to more than double its permitted height of 14m (46ft).
The facility's operator, City Plant Ltd, has applied to East Riding of Yorkshire Council to retrospectively change the planning permission.
About 100 residents have signed a petition against the plans.
Chairman of the local parish council Roy Hunt described the waste firm's proposed change as "ludicrous".
'Villagers behind us'
Mr Hunt said: "I'm hopeful that they will see that change is necessary in what they are planning to do."
"I think that when we present this petition they will take us a lot more seriously than perhaps they have taken us in the past.
"I think the agencies will see that we have the villagers behind us."
East Riding of Yorkshire Council said it had received the planning application and it was likely to be discussed at a meeting in December.
The Environment Agency confirmed that City Plant had reduced the height of the waste following an enforcement notice issued by the agency in February 2012.
The tip's permitted height granted in its planning permission is believed to be lower than that required by the Environment Agency.
City Plant Ltd has been contacted by the BBC but is yet to comment.