Business park plan for former Hull maternity hospital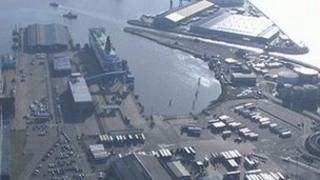 The site of the former Hull maternity hospital is to be turned into a business park creating up to 350 jobs, Hull City Council has said.
The authority said it hoped the centre would attract firms from the renewable energy sector.
The 11.5 acre (4.6 ha) site has been empty since the hospital closed in 2003.
The first part of the scheme could be open by the end of next year, if planning permission is granted.
The council said it was talking to development partners and was planning to invest £2m in kick-starting the project, with a further £7m coming from the public and private sectors.
The site on Hedon Road in east Hull is in the city's traditional industrial area. It is close to the docks where a proposed £80m wind turbine factory is to be built.
A number of job losses in the area have been announced in recent weeks, including the closure of the nearby Seven Seas vitamin factory with the loss of 250 posts.
Councillor Steve Bayes, portfolio holder for regeneration and employment, said that he hoped the development would bring new firms into the city.
He said: "The key thing with this is you've got to create the areas that people can move into.
"It's pointless just bemoaning the fact that places are closing, or you are not getting inward investment if you don't try and create the environment they can start up in."