Row over Humber councils' economic collaboration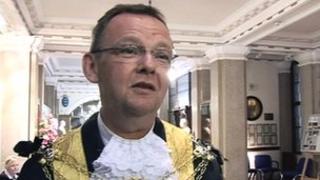 A Hull city councillor has accused the leader of a neighbouring council of not cooperating over negotiations on the region's economic future.
Labour's Colin Inglis claimed North East Lincolnshire Labour leader Chris Shaw was "pushing Hull out of the way" in meetings.
He said he hoped that Mr Shaw would "learn how to behave himself".
Mr Shaw said he was "surprised at councillor Inglis, because he is not even involved in the meetings".
Mr Inglis cited initial disagreements between the region's four councils, Hull City Council, North East Lincolnshire, North Lincolnshire and the East Riding of Yorkshire, on the taking over of the Humber Bridge debt as evidence of Mr Shaw's negotiating style.
He said: "This has been going on ever since Shaw became leader in North East Lincolnshire
"His idea of negotiation seems to be to walk in [to] a room, [and] demand everybody else unconditionally surrenders.
"There are advantages to all from everybody working together and getting fair shares, and Shaw doesn't seem to understand that."
'Rats in a sack'
Mr Shaw denied the accusations and pointed to the recent agreement between the councils to establish a Humber-wide local enterprise partnership (LEP) as proof that he could collaborate.
"This idea that we're fighting like rats in a sack, " said Mr Shaw. "We had a meeting last week and the week before and we've been agreeing a way forward.
"He hasn't realised the new future in the area which is you have to work together.
"There are no big players or little players, we are all equal players."
The row comes on the day Cities Minister Greg Clark is visiting Hull to meet leaders of the four local council to discuss the awarding of City Deal status to the area.
If the proposal is approved it would see more money and decision making devolved to the region from central government.