Hull group in new appeal for bicycles for Africa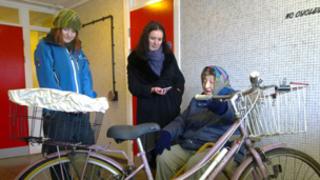 A community group in Hull has launched a new appeal for unwanted bicycles to help people in Africa.
Since it was established in 2011, the Avenues Bicycle Project, has shipped out more than 300 bicycles to Ghana and Sierra Leone.
The bicycles are repaired and given to farmers, health workers, teachers and students in rural areas.
Recipients of the bikes are given training on maintenance and in some cases lessons on how to ride.
Kate Jones, one of the project's volunteers, said "I feel like I'm doing something good.
"There's this wonderful kind of warmth when you collect a bicycle.
"We're happy to be taking it and they're happy to be giving it."
One recent person to donate a bicycle was 90-year-old Dorothy, who only gave up cycling late last year.
"It will do somebody some good, she said.
"Irrespective of whether it's a child riding it to school or somebody going on an errand in the country."
"I'm pleased it is going to a good home," she added.
The project has particular significance for Hull as the city is twinned with Freetown, the capital of Sierra Leone.