East Riding misses out on tour de France race stages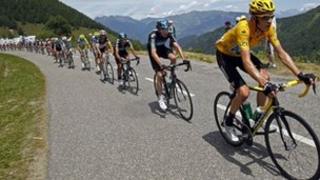 Council officials in East Yorkshire have expressed their disappointment that the Tour de France cycle race will not be visiting the county.
The race, whose Yorkshire route was announced earlier, will start in Leeds on 5 July 2014.
Crossing South, West and North Yorkshire riders miss the East Riding.
Councillor Jane Evison, of East Riding of Yorkshire Council, said "it would have been exciting if we'd have been on the route."
"Certainly, we backed the bid for the Tour de France," she said.
"But nevertheless, we are where we are, there is no doubt in my mind that we will be able to capitalise on the fact that it is so close to to us anyway.
'Ideal for cycling'
"People in the East Riding will be able to visit the different venues and see the race if they want to.
"It does mean there will be an increased number of people visiting the area in general.
"Cycling is a real growth area as far as we are concerned and we've introduced so many cycling routes in the East Riding, so many accommodation places will benefit and we'll be able to promote tourism and the cycling tourism we provide as well."
Mayor of Beverley, Margaret Pinder, also said she was "disappointed".
"There is a feeling round here that we're the part of Yorkshire that people forget, we're the bit hanging off the side," she said.
"But we're actually a very important part of Yorkshire and we have a lot to offer.
"We host the elite circuit race here. It's an ideal area for cycling."
However Councillor John Weighell, of North Yorkshire County Council, said he was "absolutely thrilled" the tour would be passing through.
He said: "Just to have the tour for almost a full day is wonderful news for the economy and for tourism in North Yorkshire."
Leeds hosts the Grand Depart on 5 July, with the stage taking in the Yorkshire Dales before finishing in Harrogate.
Stage two of the 101st Tour starts in York and passes through Keighley and Huddersfield on the way to Sheffield.
The race last visited the UK in 2007, when London hosted the prologue and the opening stage.