Beverley MP petitions for flood insurance deal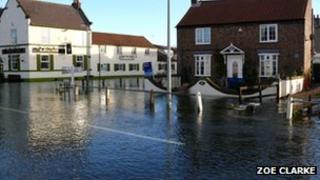 An MP in East Yorkshire is urging people to sign a petition to help homeowners receive flood insurance.
Beverley and Holderness MP Graham Stuart, who started the petition, said pressure needed to be applied in order to secure an affordable deal.
An agreement, which is due to expire in July, ensures firms will provide flood cover as long as the government continues to build flood defences.
Mr Stuart said the issue would "affect countless homeowners".
He said: "The Government is working with the Association of British Insurers to find a replacement to the Statement of Principles which is due to expire in July but this is not happening fast enough.
"We need as many signatures as possible to take the voice of Beverley and Holderness to Downing Street."
Last month, more than a dozen homes were flooded in Burton Fleming when the Gypsey Race stream burst its banks.
More than 10,000 properties in Hull were affected when rain overwhelmed the city's drainage system in 2007.
The government agreed a deal with insurers in 2008 to ensure cover for high-risk homes.
The pact, known as the Statement of Principles, is set to expire in the summer.
Householders could see premiums rise if no deal is struck between insurers and the government.
The Association of British Insurers (ABI) is discussing how to provide affordable premiums in high-risk areas, but had previously said talks were at an impasse.