Hull Greencore cake staff strike over pay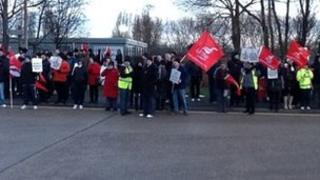 Workers at a food factory in Hull have gone on strike for 24 hours over changes to their pay and conditions.
The Unite union said Greencore bosses did not restore overtime and enhanced holiday pay after staff agreed to suspend them to help the firm.
Last year Greencore was forced by a tribunal to award compensation to workers over money lost due to changes.
Greencore, which supplies convenience foods to supermarkets, said it had made numerous attempts to resolve the issue.
About 500 workers were due to take part in the walk-out, which started at 05:00 GMT.
The union said staff agreed to temporarily suspend premium pay rates and enhanced holiday pay rates in 2010, which had subsequently seen them lose up to £40 in wages.
'Shabbily-treated'
Last November workers won an employment tribunal over the pay cuts but the union said Greencore had since failed to restore the temporary changes and issued new contracts.
Mike Hancock, Unite regional officer, said: "This workforce has never taken a day's strike action but feel they have no other option when faced with a super rich company who believes itself to be above the law.
"This poorly paid, shabbily-treated workforce are brave and they will not be cowed.
"They are determined to stand up for decent treatment from these modern-day mill owners and Unite will support them every step of the way."
Mr Hancock said the walkout would hit the production of cakes supplied to supermarkets such as Asda, Tesco and Sainsbury's.
In a statement, Greencore said: "The company has made numerous attempts to resolve the issues.
"As well as continual dialogue with the workforce, Greencore is also engaged in a legal process to try and find a resolution which, contrary to some claims, has not reached any conclusion.
"It is therefore inappropriate for us to make any further comment at this stage."