Yorkshire Water to appeal over pumping station plan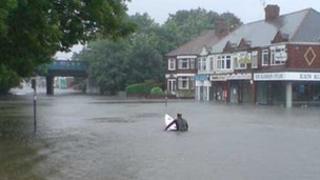 A water company is to appeal over plans for a new pumping station after the scheme was rejected by Hull councillors.
Yorkshire Water claims the station at Kingswood would provide five-times the level of flood protection for the area.
The application was rejected by Hull City Council in December due to its proximity to homes.
The company said it hoped the council would reconsider. Hull City Council declined to comment.
'Critical asset'
The existing pumping station has been in place since 1969 and helps protect the Bransholme and Kingswood areas from flooding at times of heavy rainfall.
Almost 10,000 properties were flooded in Hull and the surrounding area after heavy rainfall in June 2007.
Richard Sears, from the company, said: "This pumping station is a critical asset for the area. We've been working since 2007 to improve the facilities we've got there. We are disappointed and we are appealing."
The company said it had also submitted a modified planning application.
"We have made some minor modifications to one of the buildings to make it more attractive but at the end of the day what we are looking to provide is an enormous increase in flood protection for that area," Mr Sears said.
Hull City Council said the company's new application would be considered in March.