West Butterwick cable theft cuts phone services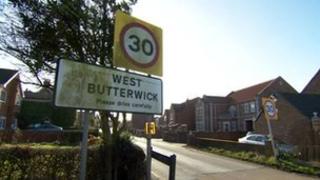 More than 80 homes have been left without phone and internet connection in a North Lincolnshire village after thieves stole 1,400m of copper cable.
The cable was stolen from underground in the West Butterwick area of Scunthorpe, in the early hours of Sunday morning, BT said.
It is the fourth cable theft affecting the village in the last two years.
BT said its engineers were on site assessing the damage and working on the "quickest route to restore service".
Resident Helen Todd, who works from home, said the theft had disrupted her work and was causing a loss in income.
"I can't send out deals to my customers. In the current economic climate every bit of business is important and trying to get every penny is just really hard."
Humberside Police and BT have appealed for anyone who saw suspicious activity in the area to contact the force.
BT said there had been a total of 23 cable thefts in the DN17 postcode area in the last two years and a special task force had been set up in February 2010 to deal with the problem.