Met Office issues yellow snow warning for Yorkshire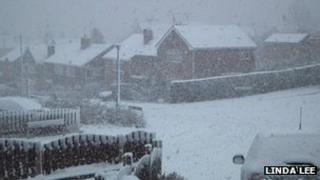 The Met Office has issued a yellow warning of snow and ice across Yorkshire.
Bands of snow hit the region overnight and further snow showers are expected into the afternoon.
The Met Office has also warned high winds could cause drifting snow and blizzard conditions that might affect roads on high ground.
The A628 Woodhead Pass was closed. In Sheffield eight schools were closed and a handful were opening late.
Leeds Bradford Airport was open but said the weather was causing some disruption to flights. Robin Hood Airport said it was open as usual.
Yorkshire Ambulance Service has warned people to take care on icy roads.
The service said it expected to see additional pressure on the service, with an increase in weather-related falls by people and road traffic collisions, especially during the rush-hour.