Humberside Police appoints its first female chief constable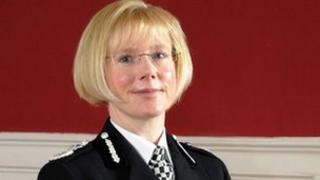 Justine Curran has been confirmed as Humberside Police's first ever female chief constable.
Her appointment was unanimously approved at a meeting of the Humberside police and crime panel, after she was proposed for the post last month by Humberside police and crime commissioner Matthew Grove,
Ms Curran is currently the chief constable of Tayside Police.
She said she was "absolutely delighted" at the decision.
Sheffield-born Ms Curran served as an officer in the Greater Manchester and Merseyside forces, before becoming Tayside chief in 2009.
'Really excited'
She will replace Tim Hollis who is retiring at the end of March after eight years in the job.
Ms Curran said: "I'm really excited about the opportunities of coming to work in Humberside and moving my family here, settling here and actually getting stuck in and working with the team."
She said that working with communities and tackling violent crime would be a priority.
Ms Curran said she was looking forward to working alongside Mr Grove, but said it was important that the police and crime commissioner "leaves the policing to us".
"It's absolutely fundamental that communities are able to trust us as the police," she said.
"Because if they don't trust us then we can't actually do our job working with them.
"So it is important that we show that operational matters are for the police.
"They want cops to be dealing with things that cops should be dealing with."