Humber Bridge board bill has second Commons reading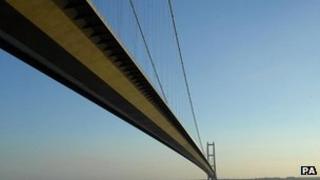 Hospital patients who cross the Humber Bridge for medical treatment are a step closer to being exempt from tolls.
A bill going through Parliament would give control of the bridge to a new board of councillors who could then allow dispensations from the toll.
Campaigners have lobbied for patients to be toll-exempt for years and the four councils on the Humber have said it would be a priority for the board.
The Humber Bridge Bill was agreed at second reading in the Commons.
It will now be scrutinised in a committee.
A change to the structure in the way the bridge is paid for has already seen the fee for cars fall from £3 to £1.50, which has resulted in a rise of more than 9% in the amount of traffic using the bridge.
Much-needed change
The new bridge board would consist of a councillor from each of the four surrounding local authorities.
When the tolls were cut last year the leaders of those authorities met and agreed that scrapping tolls for hospital patients would be a priority for the new board.
Speaking in the Commons, Transport Minister Norman Baker confirmed the government would no longer be involved in setting the level of the tolls for the bridge.
He said: "The other provisions of the Bill have been worked out by the bridge board and the local authorities in order to modernise the powers of the bridge board to manage its affairs efficiently and transparently, and to allow it to act commercially to develop sources of revenues other than tolls, whilst remaining democratically accountable to the local community.
"On this basis we have agreed as a government to support them."
Labour MP for Scunthorpe Nic Dakin said: "Now is the time for the changes in this Bill to release the dynamism [in the region] if the bridge is to be fit for not only the present but also the future."
Andrew Percy, Tory MP for Brigg and Goole, said: "This is a much-needed change for our local area and I think we are all delighted to have been involved in it."