Last waste bales removed from Goole dock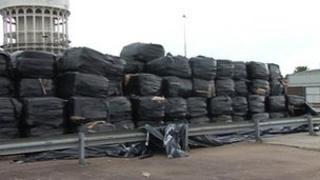 The last bales of illegally dumped waste have been removed from land at Goole docks after complaints from local residents.
The Environment Agency said that more than 4,000 bales of household waste were deposited last year on land managed by NW Trading (NWT).
People living near the dock claimed that the waste produced odour and attracted flies.
Nobody from NWT was available for comment.
The Environment Agency said that NWT had voluntarily removed the waste at no cost to the taxpayer.
The agency's team leader Ian Cowie said: "We're very pleased that all the bales have finally been moved.
"We have been working hard behind the scenes and it's been a longer process than we would have liked, but our efforts have meant that there has been no cost to the public purse.
"We appreciate that residents may have been concerned, and would like to apologise for the delay, but we have a duty not to incur more costs than necessary, and we believe this policy has now paid off."
The Environment Agency also said it was carrying out a "complex criminal investigation" into the dumping of the waste.