Hull councillors vote in favour of cuts amid protests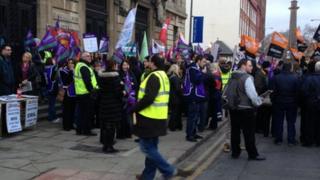 About 150 people have been protesting in Hull as councillors voted in favour of a cut to the council's budget.
The city council's plan to cut 600 jobs and raise council tax by 1.95% to tackle its budget deficit was approved.
It said it had to save £80m by 2015 because of a five-year reduction in central government funding.
Union Unison described the decision as "another nail in the coffin". The council said it would "endeavour to protect the most vulnerable".
Proposals to the council's budget were passed by 38 votes to 18, with three Labour councillors voting against their party's plans.
People had gathered outside the Guildhall to protest since the morning.
Adrian Kennett, branch secretary for Unison, said: "I think it's another nail in the coffin for Hull.
"Hull can't afford to lose jobs, lose services and the terms and conditions are being driven into the ground."
'New jobs'
Mr Kennett said the union would continue to fight against the cuts.
Councillor Darren Hale, deputy leader of the city council, said he was pleased the budget had been passed.
In a statement, he said: "It is with a heavy heart we have to make some hard decisions as we have a reduction in funding of eight pence in every pound.
"In the changes we are looking to make we will endeavour to protect the most vulnerable, and we will take every opportunity to increase the number of private sector jobs in the city and bring economic growth."
Speaking on BBC Look North, Mr Dale revealed 700 new jobs would be generated with the creation of a green energy park in east Hull by a private company. He refused to give details but said an announcement would be expected next week.
The authority is reviewing children's Sure Start centres and plans to cut £1m on commissioning services from voluntary groups.
Other savings include the closure of three customer service centres and the increase in the cost of meals on wheels by almost 20%.
Black bin collections will also be changed to once a fortnight, which the council said would save £1m a year.
The authority has also proposed to limit staff wage rises to 1% over the next two years.