'Re-imagined' Larkin poems get Hong Kong debut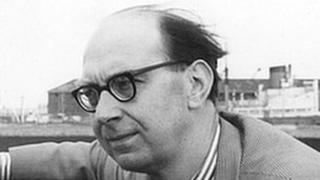 The debut performance of songs based on poems by Hull poet Philip Larkin is to take place in Hong Kong this week.
Larkin, who lived in Hull for 30 years before his death in 1985, combined a celebrated writing career with his role as librarian at Hull University.
Versions of Larkin's poems such as Cut Grass and Wires have been "re-imagined" by Chinese and British composers.
The works are to be performed at the Lee Hysan Concert Hall at the Chinese University of Hong Kong on 15 March.
The Songs of Larkin concert will feature work written by Thomas Simaku, Ronald Corp, Alastair Borthwick and Chinese composer Richard Tsang.
Led by staff from Hull University, the project is said to be the first artistic exchange of its kind between the two universities.
Dr Lee Tsang, director of performance and engagement at Hull University, said the performance was "a very exciting development".