Parents protest over proposed closure of Hull nurseries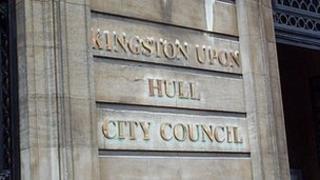 Parents at a threatened nursery in Hull are campaigning to save it from closure by the council.
Lambert Street Children's Centre is one of two council run facilities facing closure following budget cuts.
The council has launched a consultation process with parents and staff over the future of Lambert Street and the Clifton Children's Centre in west Hull.
Hull City Council said that both centres were "running significantly under capacity".
Hannah Lutkin whose three-year-old son attends the Lambert Street nursery, said she was "really upset" by the decision.
'Quality staff'
She said parents had already met with governors on the issue and described the nursery as "one of the best around".
She said: "They have really good quality staff, and every single one of them you would trust implicitly.
"They have teachers there rather than just workers and they try and give an education right across the board."
The proposed closures are part of a raft of measures, including a 1.95% rise in council tax and the cutting of 600 council jobs, approved at a council meeting last month.
The council said the changes were in response to the five-year reduction in its central government funding, which will drop by £80m by 2015.
The council's city learning and skills manager, Vanessa Harvey Samuel, said the consultation process would run until the end of April.
She said: "Both centres are running significantly under capacity so it is necessary for us to look at the options available for their future.
"We understand that parents, carers and staff will be worried but we will keep them updated about its progress and would welcome their views and comments as part of this consultation."