Community hopes to run Hull library threatened with closure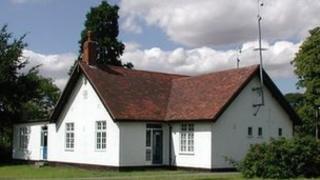 The local community is looking to take over the running of a Hull library threatened with closure by the council.
Last month, Hull City Council voted to close Anlaby Park Library as part of a budget cut.
Residents have held a series of protests against the planned closure, including a demonstration outside the council's Guildhall.
The council said it would try to "minimise the impact on local residents".
One of the campaigners Barbara Bourne said the library was used by all age ranges.
She said: "It's all we have in this area because it acts as a community centre as well as a library.
"It's just important."
Hull-born actress Maureen Lipman has backed the campaign to save the library describing it as a "lovely little place".
The proposed closure is part of a raft of measures, including a 1.95% rise in council tax and the loss of 600 council jobs.
The council said they were still carrying out an assessment on the impact of closing the library and would consider allowing the community to take over the library.
A council spokeswoman said: "The council will in the future support residents in developing a community partnership, to run a community library if it can be done in a practical and sustainable way."
The library is scheduled to close at the end of March.