Flooding of East Yorkshire village unavoidable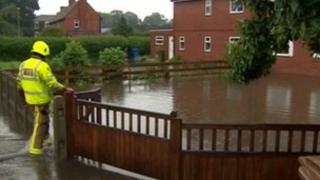 Flooding in the village of Swinefleet in East Yorkshire last summer was unavoidable, a council report has said.
A number of properties in the village were flooded after heavy rainfall on 5 July.
The report by East Riding of Yorkshire Council said the heavy rain falling on to saturated ground "overwhelmed the land drainage system".
The local authority has recommended better monitoring of water levels in the area.
The report highlighted the issues of drainage ditches being clogged by weeds which had not been cleaned out.
It said if the ditches had been cleaned out before the rainfall it was likely that the "water would have drained away from the village more quickly".
"However, due to the amount of rainfall and the flooding of open farmland and the high water table it is considered likely that flooding in the village would still have occurred," it continued.