Norman Collier's funeral attended by TV friends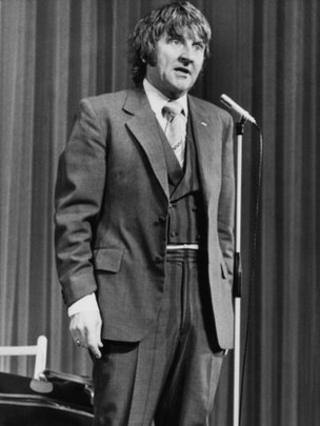 Stars from the world of comedy and entertainment have paid tribute to Norman Collier at his funeral.
The comedian, best known for his faulty microphone act, died earlier this month at the age of 87.
Hundreds of people joined Mr Collier's family for the service in the village of Welton, East Yorkshire.
Among them were Russ Abbot, Roy "Chubby" Brown, Eddie Large, Freddie Davies, Tom O'Connor, Tommy Cannon, Bobby Ball and Roy Hudd.
'Wonderful man'
Some of the comedy legends who gathered in the freezing weather outside St Helen's Church attempted Collier's trademark stuttering microphone routine.
But Abbot admitted "no-one could do it like Norman".
Eddie Large said: "Norman was the funniest man I've ever met in my life. I've never had so many laughs in his company, ever. He was just brilliant.
"We've driven up from Bristol today - I would have walked to be here because of Norman.
"Norman found everything funny. I know it's a sad occasion but if he was here he would be laughing his head off - at anything.
"That was what was so great about him. He was a wonderful, wonderful man."
The coffin was carried into the church to sound of a trumpeter and followed by his wife of more than 60 years, Lucy, as well as his three children and many grandchildren and great-grandchildren.
Norman Collier died at a residential care home close to his home city of Hull after being ill with Parkinson's disease for a number of years.
He became a major figure on the club circuit and on TV with his stuttering performances as he pretended to have a sound problem, as well as for another long-running gag where he strutted and clucked like a chicken.
Mr Collier had been a gunner during World War II and made his comedy debut in 1948 when a performer at Hull's Perth Street Club failed to show up and he agreed to fill in.
Alongside his day job as a labourer, he honed his craft on the northern club circuit, eventually making comedy his main career by 1962.