Stranded lobsters rescued from East Yorkshire coast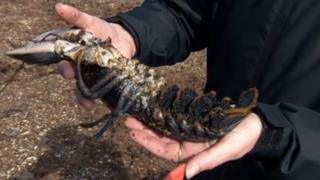 About 500 lobsters are recuperating after being forced ashore on the East Yorkshire coast by strong winds.
The Independent Shell Fisherman's Cooperative said the crustaceans had been stranded between Fraisthorpe and Barmston.
Other shellfish including crabs and mussels were also rescued by fishermen.
The cooperative said strong easterly winds and cold sea temperatures over the last week had caused the stranding.
Jo Ackers, from the Independent Shell Fisherman's Cooperative, said: "There's been an awful lot of creatures washed up that are dead.
"Lobsters are hardier than most that's why we were able to save them."
Rescuers said the crustaceans are being held in fresh water tanks in Bridlington and are to be released back into the sea next week.
Many of the lobsters are pregnant females who after a spell in the tanks have a good chance of making it back out to sea and releasing their eggs, according to rescuers.
Ms Ackers said: "Crabs and lobsters need [the sea temperature to be] about 7C, which is usually the norm for this time of year," she said.
The creatures were rescued from beaches during Thursday and Friday.