Hull businesses to promote city with £24,000 speedboat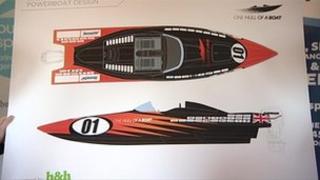 Businesses from Hull have raised just under £24,000 to buy their very own speedboat to promote the city.
The racing boat has been funded by donations from companies and individuals across Hull in a bid to attract investment.
The boat, called "One Hull of a Boat", will compete in the UK P1 Powerboat Championships which start on 1 June.
Once the championship is over it will continue to promote Hull by attending powerboat events around the world.
Huge response
The businesses were able to secure the £80,000 powerboat for a much cheaper price than usual thanks to a mix-up by a shipping company.
Originally destined for United Arab Emirates, the craft literally missed the boat to Dubai and was offered for sale for £24,000, according to Hull business network Bondholders.
The project received a huge response after an appeal for donations on Twitter raised £1,000 in just 10 minutes.
A spokeswoman for the project said they were delighted by the response.
In total 38 companies and 12 individuals have made donations, she added.
The scheme has been praised by local Labour MP Karl Turner who said it would "showcase Hull".
The P1 Powerboat Championships will begin in Hull on 1 June.