New East Yorkshire flag unveiled at Beverley Minster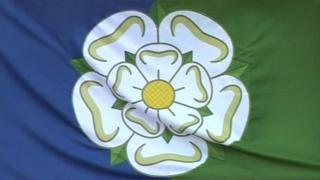 A new flag representing East Yorkshire has been unveiled and flown from Beverley Minster.
The winning design displays a white rose on a blue and green background. It was chosen from six designs following a public vote.
The flag was designed by a father and son, Trevor and Thomas Appleton, from Kirkburn, near Driffield.
Andy Strangeway the man behind the competition said: "It's about branding, we need to project who we are."
Mr Strangeway, who describes himself as a campaigner and adventurer, said he intended to carry the newly-designed flag around the county boundaries during a walk in August.
The flag has been registered on the UK Flag Registry according to Mr Strangeway.
Yorkshire already has an official flag of a white rose on a blue background.