Cleethorpes to Sheffield Saturday train service after landslip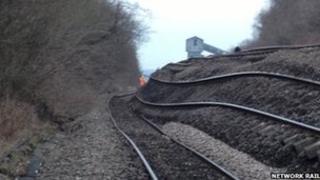 A new train service between Cleethorpes and Sheffield has started running, more than three months after the main line between them was closed by a landslip.
The weekly Saturday service will use the Brigg line, which is primarily used by freight trains, Network Rail said.
Services on the Cleethorpes to Doncaster line were stopped in February after a landslip at Stainforth.
A collapsed spoil heap at Hatfield Colliery pushed the track upwards, forcing the line to shut until July.
The new service is in addition to three services in each direction, which are operated on the Brigg route every Saturday, by Northern Rail.
Freight train congestion
First TransPennine Express (FTPE), which is operating the new Saturday service, said the Brigg line had become "extremely congested" since the closure.
A spokesman said: "It previously had 40 freight trains a day operating on it and this has now increased to over 120 as a result of the closure of the line at Hatfield and Stainforth.
"These freight trains are moving around 30% of the UK's coal needs and thus it is vital to maintain freight operations."
FTPE also said it was aware of the "potentially damaging effect to the resort of Cleethorpes with no rail service in operation" and said it continued to meet with local stakeholders and business organisations.
A replacement bus service currently in place between Doncaster and Cleethorpes and Doncaster and Scunthorpe will continue to operate.
Network Rail said it was continuing to work to restore the line.