Christopher Hird cleared of sexual misconduct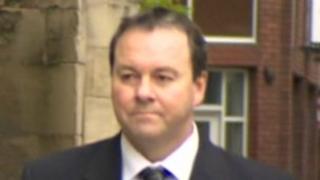 A teacher accused of sexual misconduct with three girls at a school has been cleared of all charges.
Christopher Hird, 47, of Highfields, South Cave, had denied touching girls at South Holderness Technology College in East Yorkshire.
Hull Crown Court heard the alleged incidents had taken place at the school between 2000 and 2012.
Following the verdict, East Riding of Yorkshire Council said it would review Mr Hird's suspension from teaching.
Earlier, the court had heard of four alleged incidents involving Mr Hird, a science teacher at the school.
The first girl who came forward, who was 15 at the time, alleged Mr Hird had wiped ink from her face, stroking her in a way she found "quite disturbing".
In the second alleged incident, the jury was told Mr Hird had come up behind the same girl in a classroom and pressed himself against her when she asked a question.
When the incident was reported, the school told police about another girl's allegation made in 2009.
The prosecution said this girl, who was 16 at the time, accused Mr Hird of brushing his hand against the side of her breast in class.
The third girl came forward about an alleged incident in 2000 after the teacher was charged and a story about the case featured in a newspaper.
The prosecution told the court Mr Hird had inappropriately touched the girl, who was 11 at the time, as he removed a piece of paper she had been sitting on.
Denying the charges, Mr Hird had told the court if he had touched the girls it was completely accidental and there was never any sexual intent.
Following the verdict, Judge Mark Bury said he agreed with the jury's conclusion.
Speaking outside the court, Mr Hird said he had faced a very difficult time since the allegations were made.
While the girls who had made the allegations would remain anonymous, his name had been tarnished, said Mr Hird.