Cleethorpes Leisure Centre unisex changing rooms approved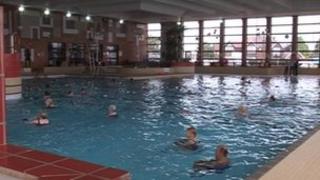 A plan to build a unisex changing area as part of a leisure centre's £635,000 refurbishment has been approved, despite a petition against the scheme.
North East Lincolnshire Council's cabinet voted in favour of the makeover for Cleethorpes Leisure Centre.
Protesters had gathered a 300-signature petition objecting to the proposals.
Original plans for unisex toilets have been dropped and the individual shower cubicles will be fitted with higher-than-usual doors.
The council said it had made changes to the designs "as a result of consultation with users".
Sue Wells, head of culture, leisure and sport, said the changes would benefit thousands of people who use the facility.
'Small victory'
She said: "We've listened to what people wanted from a modern changing room, and will be putting the wheels in motion to get this done this winter.
"Families have told us that unisex changing rooms will be a great bonus - providing the privacy people want alongside the ability for families to be together.
"And we hope the changes to the design will alleviate some concerns that have been raised in the community."
Janet Lorand, who started the petition, said she was a "bit disappointed" with the decision to keep the changing and shower areas unisex.
She said: "I feel with having the toilets separate it's a small victory for us."
Work on the refurbishment, which has been part-funded by Sport England, is due to start later this year.