Security increased at Hull City Council's Wilson Centre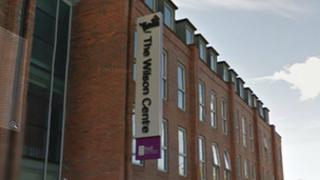 A rise in "poor behaviour" at a council customer service centre and a physical attack on the building have led to a £57,000 investment in security.
Hull City Council has said it will hire an extra guard and customer adviser to tackle problems at its £7m Wilson Centre, in Alfred Gelder Street.
It is also planning to relocate the processing of services, including crisis loan applications.
The centre, which overlooks the city's Queen's Gardens, opened in 2011.
A council spokeswoman said: "The decisions were prompted based on the experience of operating the service within the first few weeks of the year when there were increased incidences of poor customer behaviour and a physical attack on the building."
She said a number of windows were broken when the building was attacked earlier this year.
The council will invest £23,000 hiring a second security officer, £7,000 in relocating a number of services, and £27,000 hiring an additional customer adviser "to meet increased customer demand for services".
The spokeswoman said it was hoped relocating services to a separate area of the building would "reduce confrontational situations and impacts on surrounding customers".