Hull's Fruit Market development relaunched as council seek development partner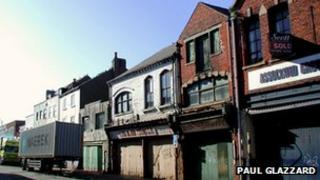 Plans to develop Hull's historic fruit market have been relaunched, five years after a planned £100m regeneration project for the area was shelved.
Hull City Council said it was looking for a "lead developer partner" to create a master plan for the site.
Up to 70 homes, an arts centre along with retail and office spaces could be built in the area around Humber Street, in the city's Old Town.
Councillor Steven Bayes said work could start as early as 2014.
Announcing the council's intention to begin a tender competition for a developer, he said: "Our vision is to create a vibrant cultural and residential quarter that will bring more people to our stunning waterfront and become a world-class visitor destination.
"To help us achieve our ambition we wish to work with a lead developer partner to realise the potential of Hull's Fruit Market."
He said £2.8m had been earmarked to help fund the development of the eight acre (3.2 hectare) site between the marina and the east bank of the River Hull.
In 2008 the council appointed Manchester-based firm Igloo to lead the regeneration of the area, but the scheme stalled owing to the recession.
Mr Bayes said: "The scheme failed because of the credit crunch. There just was not the available capital and finance in order to deliver it. We're in a different place now."
Colin McNicol, from Hull Civic Society, said any development had to "fit in" with Hull's Old Town.
"I would hate to see something in chrome and glass," he said
"I'm all for encouraging some development there because the Old Town is part of the jewel in Hull's crown. It is a huge untapped tourist attraction."