Goole schoolgirl shaves head to highlight bullying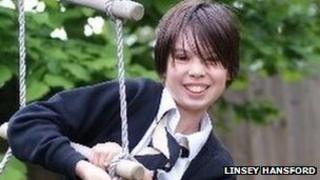 A girl who pulled her hair out because she was being bullied is shaving her head to highlight the issue and to raise money for charity.
Linaia Hansford, 12, from Goole, suffered bullying, including racial abuse, after starting at a new school, said her mother.
Linsey Hansford said her daughter had pulled out about a third of her hair, leaving bald patches.
The school said it took the matter seriously and it had been resolved.
Mrs Hansford said: "Linaia's reaction to being bullied is to pull her hair out.
"We first noticed it three months ago when she was stood in front of us.
"She pulled so much out that it was really noticeable."
Linaia, who is mixed race and has a twin sister, started at Goole High School in September.
Mrs Hansford said: "It appeared she was getting bullied on a daily basis to the point that she didn't want to go into school".
'Not doing enough'
She said the bullying was being dealt with by the school, but she felt it took some time before the school addressed the situation.
Mrs Hansford said the bullying had "calmed down" and that "90% of the time Linaia's not pulling her hair out at the moment".
"The encouragement she's received for shaving her head has helped her not pull any more out," she said.
In a statement, Danuta Tomasz, co-head teacher at Goole High School, said: "We take all incidents of bullying very seriously and we are sad that Linaia's mum felt that we were not doing enough.
"The issue has been resolved now."
Linaia was having her head shaved on Thursday - her 12th birthday.
It was taking place at the hairdressers where her mother works as a beautician.
Proceeds will go towards the First Trust Charity, which raises funds for the Royal Horse Artillery Association, of which her father was a member.