Beverley armed robbery: Two watches recovered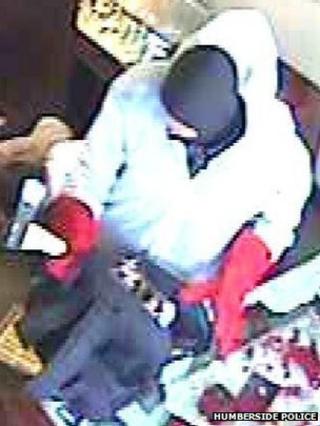 Two watches stolen by armed robbers in a raid at a jewellers in East Yorkshire have been recovered, as police release a CCTV image of one of the suspects.
The men forced their way into Guest and Philips, in Beverley, shortly after it opened at 09:30 BST on Tuesday.
They threatened staff with a sawn-off shotgun, but no shots were fired and nobody was injured, police said.
Officers are hunting four men, two of whom were drivers of two silver coloured getaway cars.
Cartier and Gucci watches worth "tens of thousands of pounds" were stolen in the raid, shop co-owner Phillip Guest said.
Mr Guest was in the shop at the time of the robbery. He said he was threatened by one of the men as they smashed window displays with an axe to steal the watches.
Police have released CCTV images of the robbers in a bid to track down the clothing worn in the raid.
'Track movements'
The men are described as being 6ft 1in and 6ft 2in tall. Both were wearing white paper-style overalls with dark clothing underneath, black balaclavas and industrial-style rubber gloves, police said.
One of the robbers was carrying a sawn-off shotgun and wearing blue rubber gloves, the other had a pick axe and was wearing red rubber gloves.
Two watches, a Cartier and a Gucci, were retrieved from one of the getaway cars, a Vauxhall Omega with the registration number KH03 UJA, which was found abandoned near a farm by the Beverley Westwood on York Road, shortly after the robbery.
Humberside Police said the vehicle was previously seen on Hereford Street, Hull, days before the robbery. They want to track its movements between 28 July and 6 August.
Officers have appealed for witnesses who saw the car during this period to contact the force.
They believe a second car was parked in Saturday Market at the time of the incident and driven towards the Westwood from the town centre.
A force spokesman said: "It is likely someone will know something about this robbery.
"Whether you have unknowingly sold two pairs of overalls and a couple of pairs of gloves to a customer recently or you have possibly come across some discarded white overalls somewhere, if so please contact the police."