Cleethorpes donkey attacks: £1,350 reward to find attackers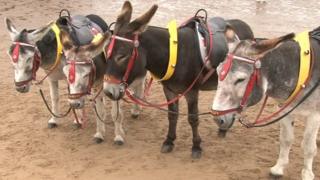 A £1,350 cash reward has been offered to find those responsible for attacking two donkeys, a business owner has said.
John Nuttall had said he may stop donkey rides at Cleethorpes beach after they were "kicked in the face, put in headlocks and hit with wood".
He said he was now rethinking this decision because of the huge amount of support from people across the world.
Cash for a reward has been offered by five people in the hope it will lead to an arrest and conviction.
Mr Nuttall initially put up a reward for £100, but it later went up to £350 after a pub in Grimsby offered £100, which was matched by an anonymous person, and another seaside donkey operator put forward £50.
A business owner in Ingoldmells, Lincolnshire, offered a further £1,000.
Simon Adderley, who owns a bar on the beach, said: "To think some individuals can actually do this to animals that have done no harm whatsoever to anyone.
"I was absolutely disgusted. As indeed were all the families that come up here to Ingoldmells beach."
Mr Nuttall said the reward was being offered to anyone with information that would "lead to an arrest or conviction of those who assaulted the donkeys".
Isolated incident
He said a witness had reported two youths repeatedly kicking his two donkeys named Dudley and Banjo while they were resting in a nearby country park field.
"It's incredible the support we're getting over our donkeys. It's amazing," said Mr Nuttall.
"People from all over the world - Spain, USA, New Zealand - have all been pledging their support. They've been telling us not to pack it in.
"We've had a company in Birmingham offering to install CCTV cameras to monitor the donkeys.
"We've also had people setting up a neighbourhood watch scheme to check the donkeys for us in the evenings when they rest."
Mr Nuttall's family-owned seaside donkey business has been running for three generations. He offers rides at three beaches in Cleethorpes, Ingoldmells and Skegness.
Humberside Police confirmed two donkeys in Cleethorpes Country Park had been allegedly assaulted. But the force said it appeared to be an isolated incident.
North East Lincolnshire Council said it was "absolutely disgusted" by the attacks.